Nashville 4D Baby offers the finest 3D/4D prenatal elective ultrasound experience available.
Combining cutting-edge technology with a spa & theater environment, we bring unbelievable images of your unborn baby to life! Now you can see your baby up close and personal with a 3D ultrasound & 4D ultrasound from Nashville 4D Baby!
Nashville 4D Baby is the only Ultrasound Studio in TN to offer the new GE HD LIVE Ultrasound.
We believe there is no greater bliss than the creation of a new life. Here at Nashville 4D Baby we enjoy bringing families together to witness the MIRACLE of LIFE.
Read More
When to get an ultrasound?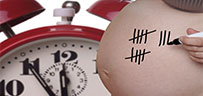 2D, 3D, 4D Ultrasound Calendar
With our online interactive ultrasound calendar you are able to see when the best time to get your 2D/3D/4D elective ultrasound performed at
Nashville 4D Baby
.
Read More